The quarterly issued LAND FORCES ACADEMY REVIEW is a scientific publication edited in English and classified by CNCS (National Research Council) as a B+ category publication, according to the CNCS site , Code CNCS 328, ISSN 2247-840X, ISSN-L 1582-6384.
The Land Forces Academy Review does not have article processing charges (APC`s) or article submission charges.

The Review is issued in: March, June, September and December.
Deadlines for submissions in 2023:
for 1 Issue: 16th January 2023;

for 2 Issue: 17th April 2023;

for 3 Issue: 14th July 2023;

for 4 Issue: 16th October 2023.


International indexing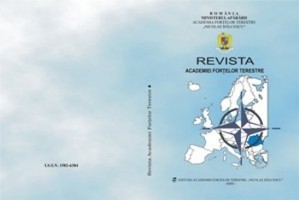 EBSCO
ProQuest Advanced Technologies & Aerospace Journals
ProQuest SciTech Journals
ProQuest Technology Journals
Baidu Scholar
CNKI Scholar (China National Knowledge Infrastructure)
EBSCO Discovery Service
Google Scholar
J-Gate
KESLI-NDSL (Korean National Discovery for Science Leaders)
Naviga (Softweco)
Primo Central (ExLibris)
ReadCube
Summon (Serials Solutions/ProQuest)
TDNet
Ulrich's Periodicals Directory/ulrichsweb
WanFang Data
WorldCat (OCLC)